Got Baba Ghanoush?  This is a Mediterranean appetizer akin to hummus.  I recently had it as a side dish to the Lamb Shawerma I ordered at Babalou's Mediterrean in Downtown Walnut Creek.  A close friend recommended it.  Rather than just describe the wonderful taste and mouthfeel of this deliciously smoky creamy sour eggplant dip, I thought I'd give you a good recipe to make it for your next party or small gathering.  It's quite simple and delicious!
First, you can click on the link below from Allrecipes.com for Video: Baba Ghanoush and watch the video version of the recipe.
Video: Baba Ghannoush Recipe from Allrecipes.com
Below, I have adapted the recipe with a few additions.  This Recipe has interactive features, so just click on any particular ingredient in this recipe and you will get the nutritional facts and definition for it.  Click on the "Dig-in" button, and you get the whole SHABANG about it!!!  Try it; it's pretty cool!
Baba Ghanoush (A Creamy Eggplant Dip)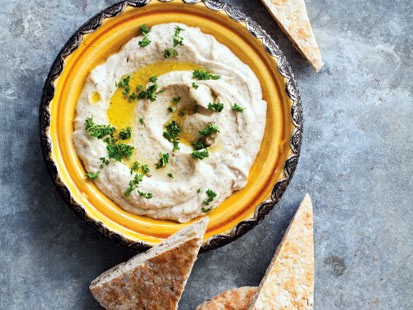 How to make this classic, garlicky sour creamy eggplant dip.
cal
Calories

134kcal
fat
Total Fat

10g
sat fat
Saturated Fat

2g
chol Free
Cholesterol

0mg
Low sodium
Sodium

41mg
Low carbs
Total Carbohydrate

9g
Serving size
122g
Calories from fat
90kcal
Fiber
5g
Protein
3g
Sugar
3g
Ingredients
fresh

chopped

parsley

or

mint
Directions
Preheat oven to 400 degrees.
Spray a non-stick baking pan with cooking spray.
Next, you must poke holes with a fork in the large eggplant.
Place eggplant on baking pan and in the oven.
Bake eggplant for 30-40 minutes turning occasionally until soft.
Place eggplant in water with ice cubes.
After a few minutes, peel the skin off the eggplant.
Cut off the eggplant's stem..
Place eggplant in a colander, put a plate over it, and place a can on the plate.
Let the eggplant drain for 15 minutes to get rid of some of the bitterness.
Place eggplant in a food processor or blender.
Add 1/4 c. lemon juice.
Add 1/4 c. tahini.
Add 2 Tbsps. Sesame Seeds.
Add 3 cloves of minced garlic.
Place lid on the blender and puree the eggplant mixture until it's smooth.
Season it with salt and pepper to taste.
Pulse it in the blender a few times.
Add more tahini or lemon juice as needed to get a smoother consistency and better taste.
Transfer the eggplant mixture into a bowl.
Slowly stir in 1 1/2 Tbsps. olive oil.
Cover and refrigerate for three hours before serving.
Before serving:
Drizzle with olive oil.
Garnish with chopped parsley or mint
and a dollop of kashk, creme fraiche, sour cream. or yogurt –
Whatever floats your boat!
Serve with lavash, pita bread or chips, crackers and fresh veggies on a party platter.
Enjoy some fine Mediterranean cuisine!!!
Tips
Always taste the mixture as you add salt and other ingredients, and trust your instinct on taste and mouthfeel!